New solutions for new problems
1. August 2023
Cost reduction
Inventory costs
Quality costs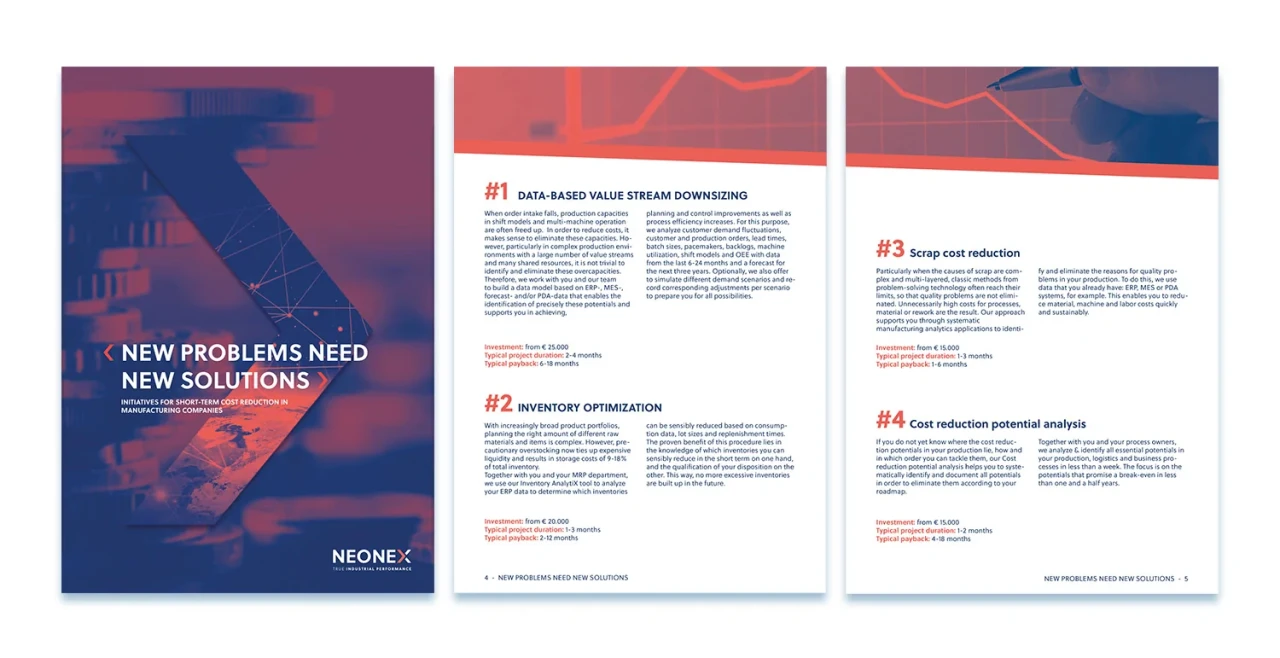 In addition to strategic issues such as sustainability efforts, labor shortages and supply chain problems, manufacturing companies, especially outside the growth sectors of high wage-markets, are suddenly facing increasing cost pressure due to declining order intake. This structural shift is new to many managers in the industry - after all, we can look back on almost 15 years of uninterrupted economic growth.
But how can you go about reducing your costs in the short to medium term? Fortunately, new times also bring new opportunities: through digitalization and data analytics, you now have the opportunity to identify and exploit cost reduction potential both more quickly and precisely. Based on these principles, we've put together a package of four consulting approaches that use our proven methods & tools to identify open potential in your operations and show a positive ROI within a few months, without any further investment:
Four approaches for cost reductions
DATA-BASED VALUE STREAM DOWNSIZING
With decreasing demand, cost reduction potential often arise in shift models and multi-machine operation. Based on your ERP-, MES-, forecast- and/or PDA- data, we determine how you can leverage cost potentials through planning, control and process efficiency improvements using an automatically generated holistic data model.
INVENTORY OPTIMIZATION
Inventories even slightly to big tie up liquidity and result in unnecessary storage costs. Especially when interest rates are rising and demand is falling, there is often great potential lying dormant here. Together with your scheduling department, we use your ERP data to analyze which inventories can be sensibly reduced. By building up stocks of selected items, we also increase your ability to deliver.
SCRAP COST REDUCTION
Through systematic manufacturing analytics applications, we analyze where the causes of the main quality problems in your production lie and how you can eliminate them to reduce material, machine and labor costs.
COST REDUCTION POTENTIAL ANALYSIS
In less than a week, we work with you and your process managers to analyze cost reduction potentials in your production, logistics and business processes. The focus is on the potentials that promises a break-even in less than one and a half years.
So regardless of whether you already have a clear picture of where you have cost potential or not: We offer you the opportunity to identify and/or monetize these potentials in the shortest possible time with data-based, focused methods. The methodical approaches are described in more detail via the download or down below.