Danfoss
VirtualXperience Program on Smart Factory and Digital Transformation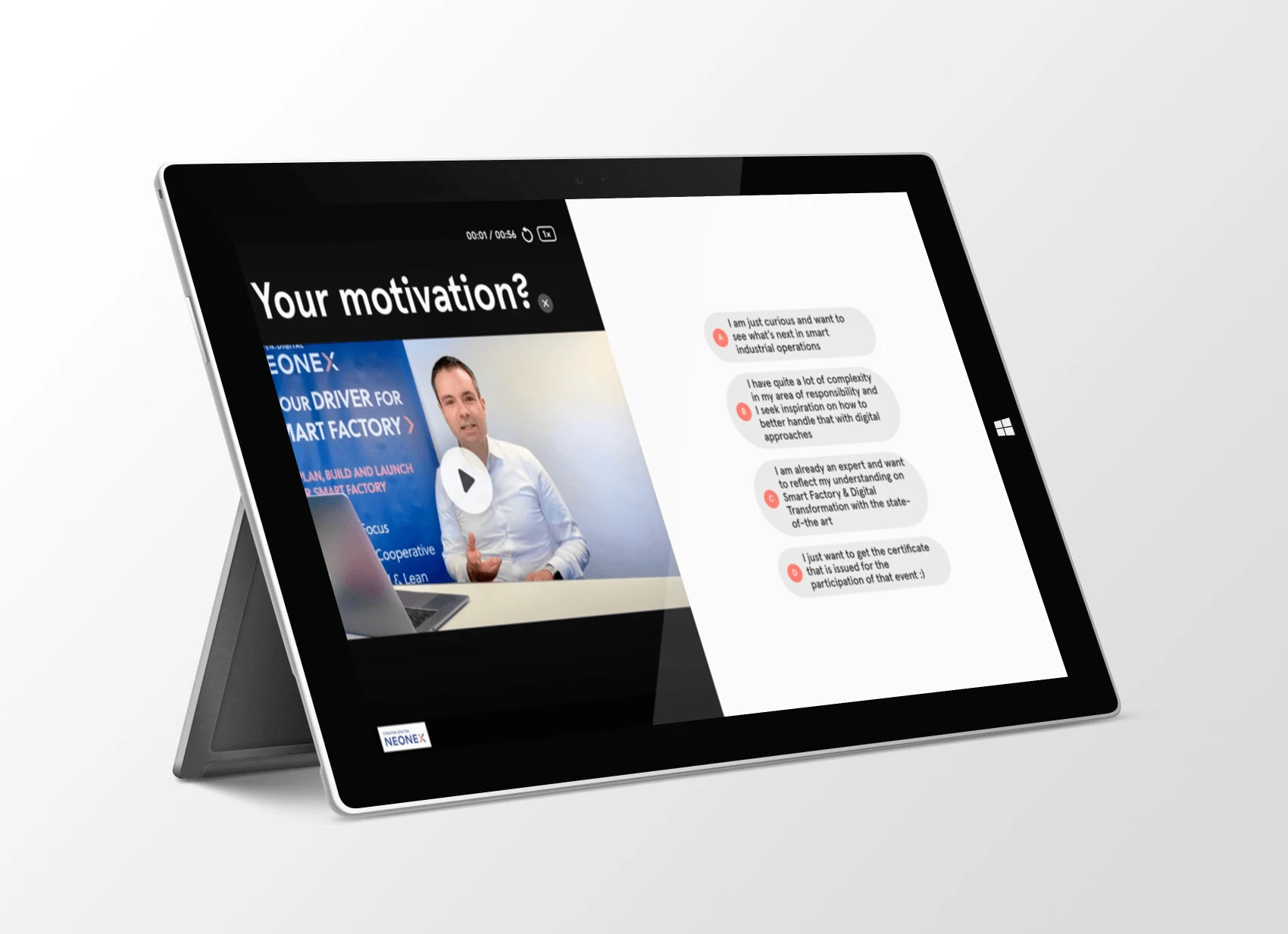 NEONEX delivered a first class VirtualXperience program on Digital Transformation for our Top Management worldwide. Fantastic promotion and kick start of our digitalization journey.
We received valuable, fact-based inspiration and recommendations on potential focus areas to address as well as inputs on how to proceed with our own Digital Transformation.
Approach
Within a fully digital experience of 4 high speed modules with a duration of 2 hours each, the client's Top Management was provided with all facts on how to run a Digital Transformation. Besides basic know-how, Use Cases of realized projects were shared with multi-media content. Furthermore, the detailed steps to digitally transform the client's operations were explained. After each keynote or Use Case, votings from more than 70 participants were collected and analyzed. Based on that, conclusions were drawn on the major challenges and action items to make Digital Transformation a success.
After this program …
all participants had the same framework of understanding and wording
all participants got inspired on what is possible to realize and what the benefits are to expect
all participants understood major steps to go for realizing a Digital Transformation
clear recommendations could be given on challenges to address and on how to start for gaining momentum
Benefits for Danfoss
Same framework of understanding and wording in global Top Management
Inspiration on possible Use Cases by world-class Best Practices
Data-based insight into status quo and major challenges to address
Expert consulting on top 3 action items to start and gain momentum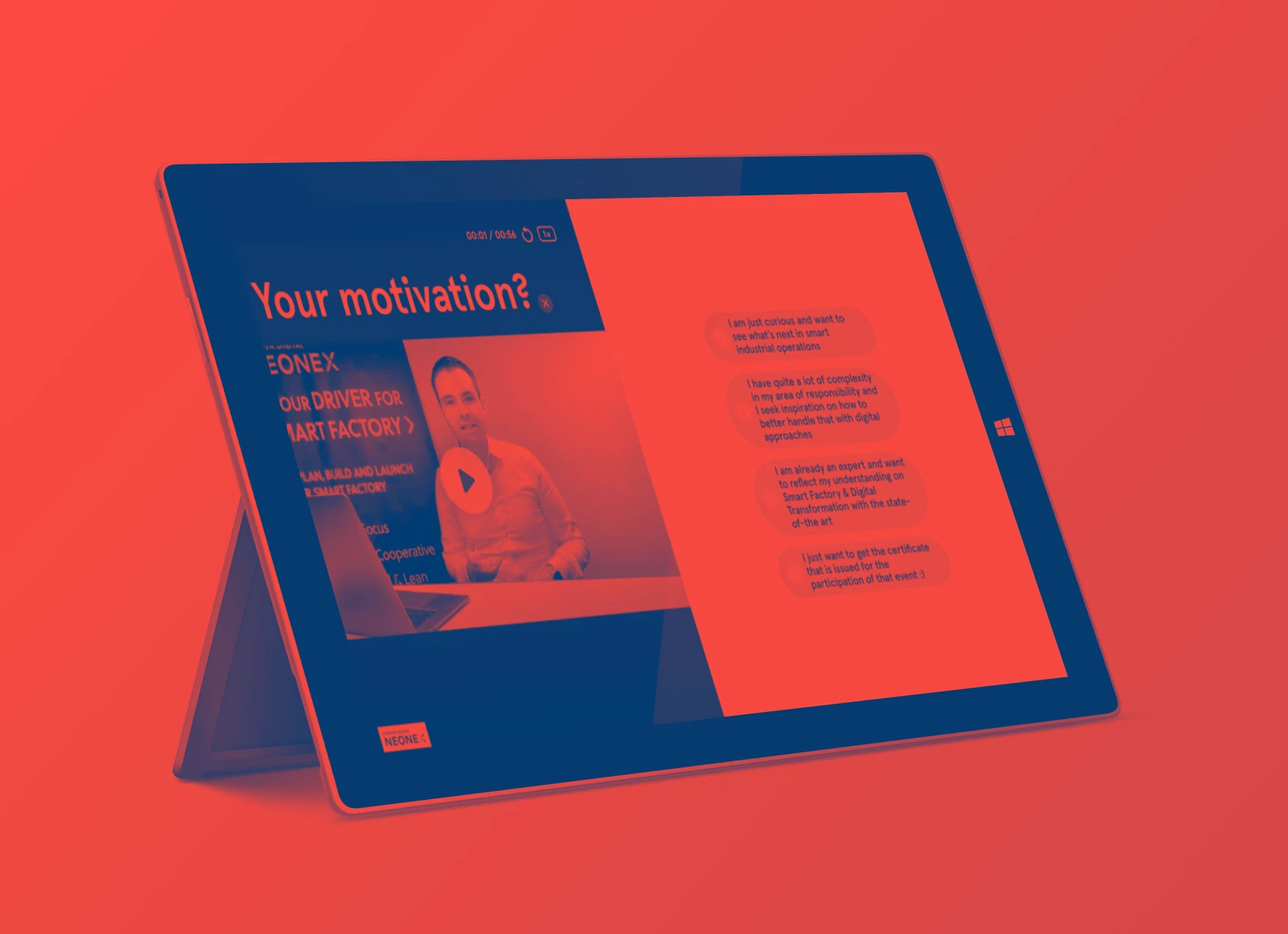 4 Steps to get Digital Transformation Started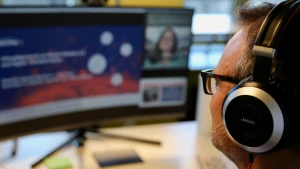 Setting the Base
Qualification on Smart Factory and Digital Transformation
Framework Understanding and Wording
---
The goal of module 1 was to create a common framework of understanding and wording on digitalization of operations among all participants of the six different business units within the Danfoss Cooling Segment.
In order to achieve that goal, five keynotes focusing on Smart Factory basics & essentials, the relationship between Digital & Lean, concepts of digital wastes, the most relevant concepts and technologies for a Smart Factory a well as Manufacturing Data Analytics frameworks and approaches were presented to the participants.
As key result, all participants across different organizations gained the same level of knowledge and understanding. This is an important prerequisite to discuss internal approaches and activities in an efficient and effective way.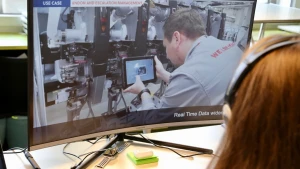 Setting the Mind
World-Class Best Practices
---
The goal of module 2 was to inspire the audience with worldwide Use Case examples to digitally improve the client's End-2-End value stream.
In order to achieve that goal multiple Use Cases along an ideal value stream were presented with multi-media content. Key elements, functional principles and benefits were explained in detail for every Use Case. Focus sections were e.g. Predictive Maintenance, Smart Supply Chain, Digital Warehouse Optimization and Automation of Logistics.
As key result, all participants understood what Use Cases are possible to realize in a Smart Factory, how Digitalization works practically on the shop floor and which benefits are to expect.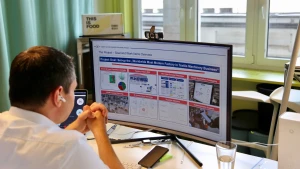 Setting the Frame
Realization Approach
Do's and Don'ts
IT Architecture
Agile Project Management
---
The goal of module 3 was to give the whole audience the big picture on the way how a Digital Transformation in Operations needs to be run, both from the technical and organizational point of view, to make it a success.
In order to achieve that goal, the most relevant overall factory concepts, IT systems and project management methods to drive the development of a Smart Factory with the right speed into the right direction have been lined out. In addition to that, a deep dive on the major 12 steps on the Journey of Digital Transformation of Operations was provided.
As key result, all participants are aware of the major steps as the technological and organizational means to realize a Digital Transformation in Operations.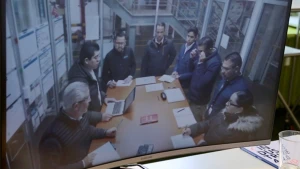 Setting the Future
Aligning on How to Start
Digital Transformation Roadmapping
---
The goal of module 4 was to interactively discuss the Top 4 major challenges for the client company and to provide a start to gain momentum for a Digital Transformation.
In order to achieve that goal, NEONEX experts analyzed the voting results of all sessions to identify the most relevant aspects for a Digital Transformation at Danfoss. Furthermore, a heat map with the most relevant Use Cases for each business unit was created. Based upon those findings and the NEONEX project experience, a tailor-made plan was developed to successfully run a Digital Transformation within the coming 15 months.
As key result, a roadmap on how to address the major challenges was delivered, including clear work streams, tasks, tools and timeline.
Methods for High Participant Engagement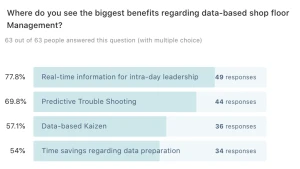 Determining Individual Challenges
Interactive Speed Voting
Training methods
Voting Sessions
---
Enriching the high frequency content by voting sessions kept participants' attention on a continuously high level. Furthermore, it also allowed people to give their opinion on relevant aspects of Digital Transformation in real time.
After each keynote or Use Case, the participants answered one to three brief questions in an easy-to-use online tool.
Like this, data on the most relevant aspects of Digital Transformation regarding Use Cases, technology, IT elements and general success factors were gathered. Based on that, major findings on the top challenges to run a Digital Transformation could easily be analyzed. In combination with NEONEX expert knowledge, recommendations were given on how to address these challenges effectively and how to start into Digital Transformation the right way.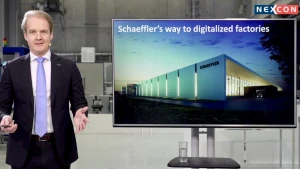 Firsthand insights into Digital Transformation
Individual Home Study @ NEXCON
NEXCON
Training methods
Best Practices
---
The individual home study was aimed to further sharpen the participants' knowledge on Digital Transformation by providing several examples from leading companies in other industries.
With video keynote speeches available 24/7, NEXCON offers first-hand information from front runner companies in Digital Transformation. Following the given video recommendations, the participants went on a tailor-made learning journey of Best Practices and deep insights in how to carry out a Digital Transformation. Apart from watching the videos, they were asked some reflection questions in order to convey the content on their own company's situation.
Thanks to NEXCON, the participants were able to expand their big picture on Digital Transformation independently of one another and on their own speed and schedule.